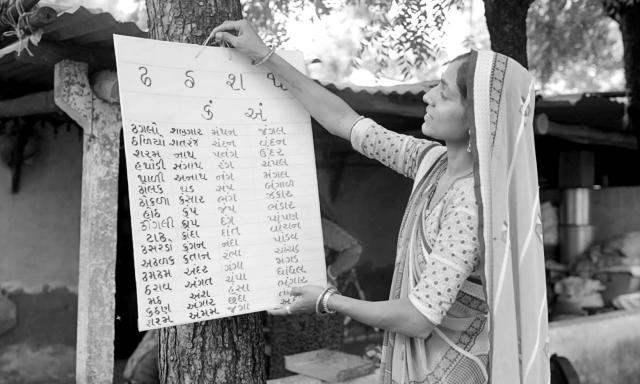 Outcomes-Based Financing: The Quality Education India Development Impact Bond
The Social Challenge
Financing Quality Education
India has made enormous progress in education to achieve a 99 percent rate of primary school access, but what of the quality of education available for children in India? In 2018, India's annual ASER survey indicated that the average Grade V student in India is at least two years behind in grade-appropriate learning. This has been further exacerbated by the impact of the COVID-19 pandemic and resulting school closures. 
In alignment with the United Nations' Sustainable Development Goals' focused attention on improving the quality of education (SDG 4) to ensure that children in school are actually learning, the British Asian Trust (BAT), UBS Optimus Foundation (UBSOF), Michael & Susan Dell Foundation (MSDF) and others came together to launch the Quality Education India Development Impact Bond (QEI DIB) in 2018.
The initiative was a pioneering collaboration between leaders from across private and philanthropic sectors to scale up proven interventions to improve learning outcomes of students, as well as address the critical gap in financing by unlocking new funding and making existing funding work better. 
The Partnership
Quality Education India Development Impact Bond (QEI DIB)
The Partners
British Asian Trust

UBS Optimus Foundation

Michael & Susan Dell Foundation

BT Group

Comic Relief

The Larry Ellison Foundation

The Mittal Foundation

Gyan Shala

Kaivalya Education Foundation

Pratham InfoTech Foundation

Society for All Round Development (SARD)

Educational Initiatives (EI) 

Dalberg Advisors

ConveGenius Insights

Foreign, Commonwealth & Development Organisation (U.K. Government)

Tata Trusts

Center for Universal Education at the Brookings Institution

Ecorys

 
The Idea and the Action
At $11 million, QEI DIB was the world's largest development impact bond in education.
Impact bonds are outcomes-based contracts that catalyze funding from "risk investors" to cover upfront working capital required for service delivery. The service is designed to achieve measurable predetermined outcomes, and the investor is repaid by "outcome funders" if these outcomes are achieved.
QEI DIB was set up with three key objectives:
Education
Improve literacy and numeracy skills for 200,000 students by funding learning outcomes, doing so by supporting four diverse intervention models:
Community learning centers

Adaptive learning EdTech labs

Teacher and principal development

Remedial education
Financial
Show that outcomes-based financing delivers value for money and drives efficient spending.
Systemic
Demonstrate the benefits of outcomes-based financing to drive innovation in the global education sector and transform the traditional approach to grant-making and philanthropy.
QEI DIB adopted the following principles to achieve its objectives:
Link flexible multiyear funding to outcomes, not activities, to allow education partners to adapt and make programmatic innovations based on on-ground needs.

Focus on monitoring, evaluation and learning, with clear and transparent outcome targets and measurement frameworks.

Offer performance management support to build the capacity of education partners and manage risks.
Establish robust governance mechanisms to develop trust and facilitate collaboration among partners.

Use data from assessments and performance management systems to make decisions.
The Impact
The following objectives were achieved at the end of the four-year program:
Education: QEI DIB successfully transformed the lives of 200,000 students and improved their learning 2.5 times compared to other students. It shifted the focus from student enrollment and attendance to student learning.
Financial: The investor received a return of 8 percent, and the actual price per outcome was 46 percent less than originally expected. QEI DIB showed how outcomes-based financing can provide stronger value for money to funders and investors while solving critical social challenges. It encouraged new funders and investors to explore similar programs in India and globally.
Systemic: QEI DIB education partners created a significant step change in learning outcomes achievement — 50 percent higher on average, compared to their previous grant programs. It demonstrated the benefits of implementing an outcome-based financing model at scale and influencing policymakers and the funding community. 
In the long term, QEI DIB built a strong body of evidence around what works and what does not in outcomes-based financing. The learnings have activated new funding and paved the way for a more mature and dynamic outcomes-based financing market.
The Faculty Insight
Accountability is the new black. One need look no further than "woke capitalism" critiques levied against ESG efforts to understand the importance of accountability for business and society strategies. During an era of distrust about the capacity of business to make our world better, efforts are seemingly ubiquitous among development finance scholars and practitioners to increase accountability: to better measure, manage and report their impact to stakeholders — and to ward off naysayers in the meantime.
Perhaps nowhere in sustainable finance can one find the "proof in the pudding" more than in outcomes-based interventions such as development impact bonds (DIBs). DIBs, social impact bonds and environmental impact bonds have proliferated in recent years to offer pay-for-performance solutions to persistent economic, social and environmental challenges. For example, Washington, D.C., was one of the first U.S. cities to issue an environmental impact bond to finance the construction of green stormwater runoff. In another project, the World Bank issued a sustainable development "Rhino Bond" to protect the habitat of the endangered black rhino in South Africa. These public-private partnerships fuse accountability with scalability by combining the financial might of commercial institutions with the contextual and topical expertise of impact-oriented organizations.
By predefining outcomes and tagging financial success — and payouts to investors — to the achievement of those outcomes, public-private partnerships use the pay-for-performance model to demonstrate the efficacy of social interventions, doing so while scaling those interventions within populations who desperately need them. The Quality Education India Development Impact Bond is a prime example of how innovative collaborations between business, governmental and nongovernmental partners can create — and be held accountable to — impact for beneficiaries while being economically self-sustaining.
The Darden School of Business' Institute for Business in Society partners with Concordia and the U.S. Department of State Secretary's Office of Global Partnerships to present the annual P3 Impact Award, which recognizes leading public-private partnerships that improve communities around the world. This year's award will be presented at the Concordia Annual Summit the week of 18 September 2023. The five finalists will be highlighted on Darden Ideas to Action on Fridays leading up to the event.
This article was developed with the support of Darden's Institute for Business in Society, at which Maggie Morse is director of programs.
More from
Business, Ethics & Society