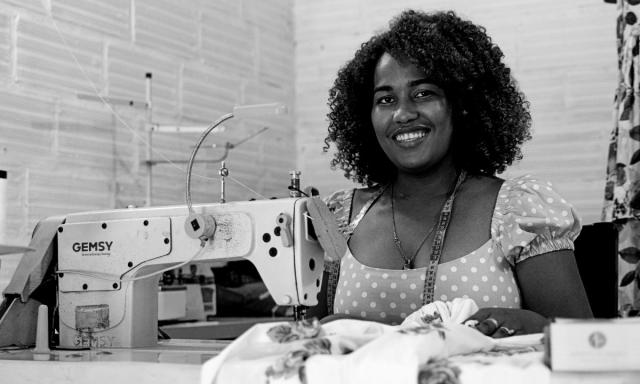 EMPROPAZ: Financial Inclusion in a Refugee Crisis
The Social Challenge
Sustainable Financial Inclusion for Refugees
More than 50 years of armed conflict have created approximately 8.6 million victims in Colombia, 7.3 million of whom have experienced displacement. The degree of monetary poverty places the country as one with some of the highest levels of inequality on the globe. Meanwhile, the already distressed country has received approximately 2.5 million Venezuelan refugees, who are themselves escaping violence and dire economic situations.
With high concentrations of migrants in both cities and remote, rural areas, there is a large-scale need to support these vulnerable populations in order to promote peace and economic growth. This means not only providing individuals with financial services and opportunities for income generation, but also integration with host communities and personal development.
The Partnership
Emprendimientos Productivos Para la Paz (EMPROPAZ)
The Partners
Banco de las Microfinanzas Bancamía S.A

United States Agency for International Development (USAID) in Colombia

World Corporation for Women Colombia (CMMC)

World Corporation for Women Medellín (CMMM)

The BBVA Microfinance Foundation (FMBBVA)
The Idea and the Action
Emprendimientos Productivos Para la Paz (EMPROPAZ) is an initiative led by Bancamía and the United States Agency for International Development (USAID), in alliance with the World Corporation for Women Colombia and Medellín/De Mis Manos, and with the support of the BBVA Microfinance Foundation. EMPROPAZ's objective is to contribute to the transformation of the social, economic and environmental reality of Colombia's impoverished populations.
The partnership operates as an innovative model of financial inclusion to individually and comprehensively help entrepreneurs create new microenterprises, as well as build those already in existence. It provides access to microcredit, saving, investment and insurance products, along with specialized business and financial literacy training, thereby promoting the generation of legal income, the transformation of territories and sustainable development.
Additionally, participants are offered socio-emotional support services that provide them with tools to facilitate the development of their human and business potential, working on issues such as community development, self-care, self-confidence and migratory mourning — the grief accompanying both tangible and intangible losses that may come with emigrating. Addressing these factors is key to helping participants succeed in their businesses and remain in Colombia in decent living conditions.
EMPROPAZ measures the scope of its activity through economic, social and environmental indicators developed by the BBVA Microfinance Foundation, one Latin America's philanthropic initiatives with the greatest social impact. With monitoring, evaluation and continuous improvement, the methodology helps the partnership understand the education, health and housing needs faced by entrepreneurs and their households to improve their living conditions.
The Impact
Between December 2018 and June 2023, 197,000 people — 59 percent of them women and 35 percent with no more than a primary education — accessed financial services and specialized training.
By the end of June 2023, nearly 10,000 entrepreneurs were able to create their microbusinesses or take them to another level, thanks to the knowledge acquired and skills developed in areas such as business management, accounting, finance, digital marketing, creation of new products, project planning, life planning and self-care, and organizational, technological, idea and product development.
According to the social impact measurement model implemented by the BBVA Microfinance Foundation, as of March 2023: After completing training, 28 percent of EMPROPAZ entrepreneurs left the monetary poverty line. Their productive units show year-on-year growth in sales (25 percent), profits (31 percent) and productive assets (31 percent).
An analysis aimed at understanding and explaining gender gaps showed that, upon completion of training, women who participated in the program decreased time spent on unpaid activities related to caring for the home and family members by 10 percent — extra time they can invest in training, productivity and personal well-being. And 84 percent of the women reported having greater economic independence because they were generating more income and more active in making decisions regarding money.
Additionally, EMPROPAZ Online offers an alternative, virtual training mechanism for those who prefer it, the operating cost of which is significantly lower than face-to-face attention, and the channel facilitates reaching more people.
The Faculty Insight
The year 2022 will be remembered for many things. Perhaps most notably: For the first time in recent history, over 100 million people worldwide — a staggering 1.2 percent of the global population — were forcibly displaced due to persecution, conflict, violence, human rights violations, and events seriously disturbing public order. It is unsurprising, therefore, that seeking inclusive and permanent solutions for refugee rehabilitation has become one of the most pressing policy challenges facing us today.
Studying rehabilitation efforts is an active area of academic research. A recent review of this literature by Kirsten Schuettler and Quy-Toan Do at the World Bank has brought to the forefront the complexity of rigorously addressing such issues. Doing so involves designing policy-relevant solutions that are implemented at scale and require organizing a coordinated and rapid integration effort between refugees and their host communities. To add to the complexity, measuring the impact of these efforts requires careful measurement and data, which is usually unavailable in these fragile circumstances.
It is in the above context that EMPROPAZ has provided exceptional leadership. Led by Bancamía, it is a coordinated effort across multiple local and international agencies to address the Venezuelan refugee crisis in Colombia. By providing access to productive finance, business management and entrepreneurial training, the partnership has transformed the lives of around 200,000 Colombian entrepreneurs and Venezuelan migrants, and by extension, host communities across Colombia.
Of special note are EMPROPAZ's efforts to undertake a holistic measurement of various dimensions of an individual's welfare. It has found that around a third of these trained entrepreneurs have moved out of poverty, and the most productive ones registered impressive year-on-year growth in sales, profits and productive assets. They were more likely to spend time on self-care, life planning and self-repair, which significantly improved their socio-emotional well-being.
Lastly, EMPROPAZ's philosophy underscores the importance of providing inclusive support. A substantial proportion of women in the program reported having greater economic independence, generating more income for the family, spending less time on household chores, and investing time in training and productivity-enhancing opportunities.
To put things in perspective, EMPROPAZ operates in one of the most fragile contexts in the world. As a host to refugees, Colombia ranks third in the world (after Türkiye and Iran). Therefore, EMPROPAZ's program is not only an important step in the regional context but can also provide important global learnings at a time when countries look to build comprehensive resilience and integration policies for refugees.
The challenges surrounding refugee rehabilitation are complex and multifaceted, and they must be addressed to ensure that refugees are given the opportunity to rebuild their lives in dignity and safety.
The Darden School of Business' Institute for Business in Society partners with Concordia and the U.S. Department of State Secretary's Office of Global Partnerships to present the annual P3 Impact Award, which recognizes leading public-private partnerships that improve communities around the world. This year's award will be presented at the Concordia Annual Summit the week of 18 September 2023. The five finalists will be highlighted on Darden Ideas to Action on Fridays leading up to the event.
This article was developed with the support of Darden's Institute for Business in Society, at which Maggie Morse is director of programs.
More from
Business, Ethics & Society